BOOK REVIEW
Reviewed by Kevin Carrel Footer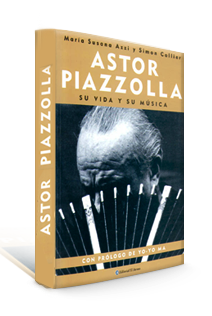 Astor Piazzolla: Su Vida y Su Música by María Susana Azzi and Simon Collier, Buenos Aires: Editorial El Ateneo, 2002.
[Originally published as Le Grand Tango. The Life and Music of Astor Piazzolla. New York: Oxford University Press, 2000]
The well-documented, crisply-written biography recounts Astor Piazzolla's tempestuous life and his search for an original musical voice. It is, above all, an artist's biography. While the authors María Susana Azzi and Simon Collier mention the marriages, the romances, and Piazzolla's troubled relations with his children, the emphasis is firmly on the music. How is it, they ask, that a scrappy kid playing a famously cumbersome and improbable instrument created a music of world-wide appeal?
Astor Piazzolla's life and music were surrounded in controversy in his native Argentina where Piazzollistas and anti-Piazzollistas often came to blows after his concerts. That fate seems to have accompanied this excellent posthumous biography. Published originally in English by Oxford University Press, two years passed before the book was finally brought out in Spanish in Argentina.
Born in Argentina, raised in New York City and Argentina, Piazzolla took up the bandoneon — the mournful, accordion-like instrument at the heart of tango — at the urging of his father. While he achieved early renown for his talents, he disdained the traditional tango dance bands; when not performing, he studied classical music with Alberto Ginastera and later Nadia Boulanger in Paris. This early tension between traditional tango and classical music would follow him the rest of his life.
For many today, Piazzolla is the unquestioned master of the bandoneon. It is ironic then that as a young man, enthralled with his study of classical music, he complained to a friend, "I don't want to play the bandoneon anymore. I am ashamed to carry my bandoneon through the streets."
However, it was the legendary music teacher Nadia Boulanger (mentor to composers Aaron Copland and Virgil Thompson, intimate of Stravinsky) who told him that his classical compositions were well-written but lacking in sentiment. When Boulanger at last prevailed on Piazzolla to play her one of his tangos, she stopped him, took his hands in hers and said, "Never abandon this. This is your music, here is Piazzolla." It was a turning point in his life. After that, he dedicated himself to transforming the sound of Buenos Aires into a universal music drawn from jazz and especially classical music.
The book is full of the telling anecdotes that one accumulates only through the careful study of another's life. (The authors conducted 240 interviews for the book.) Piazzolla's hobby was fishing for sharks off Punta del Este. He loved his dogs and named several pieces for them. The authors also tell us that he was an inveterate prankster, setting off smoke bombs in rehearsals, removing the screws from a colleague's bandoneon so it fell apart in his hands in a concert, and countless other high jinx. Once, after a long night in Paris, he strolled into Notre Dame, sat down at the organ and played through the entire early morning mass, improvising a mix of religious music with his own.
One also learns of Piazzolla's encounter as a boy with the Argentine tango icon Carlos Gardel in New York, of the bit part he played in one of Gardel's movies, and his never-completed dream of turning Gardel's life into an opera.
Though today no one challenges Astor Piazzolla's international stature — classical and jazz musicians such as Yo-Yo Ma, Gary Burton, Al Di Meola, Gidon Kremer, Daniel Barenboim, the Kronos Quartet, Mstislav Rostropovich, and Emmanuel Ax have lined up to interpret his works – during Piazzolla's life there were taxi drivers in Buenos Aires who would refuse to give him a ride "for having assassinated tango."
The authors put the tired old debate about whether Piazzolla wrote tango or not to rest. They make a convincing case that what Piazzolla did – as well as what he intended to do – was to write contemporary chamber music with, as he himself said, "the smell of tango." He was a great admirer of Stravinsky, Bach, Brahms, Ravel and Gershwin. (He once played "Rhapsody in Blue" on the bandoneon when auditioning for a job.) Like the Hungarian composer Béla Bartók who drew inspiration from Hungarian folk songs while creating something entirely modern and universal, Piazzolla created a new music steeped in tango but that went far beyond the traditional form. It is telling that for years Piazzolla slept beneath a portrait of Bartók.
Piazzolla was driven by an inner fire which rarely let him rest; it a also made him hugely prolific. He was so fast at composing that his managers often delayed sending off commissioned works for fear someone would suspect Piazzolla had pulled an old piece from his files. The French singer Georges Moustaki recalls leaving Piazzolla undisturbed at the piano to work on a song they were composing together. When he returned a few hours later, Piazzolla was gone but on the piano was the finished score and a cassette recording of the piece.
This story of Piazzolla's artistic life raises intriguing questions about identity, roots, nationality, and the need to break with traditions in order to enhance them. In his 71 years, Astor Piazzolla became one of the world's celebrated composers. (Al Di Meola said that playing with Piazzolla was "like being with Bach.") However, though the book celebrates his genius, it does not skirt the rough edges of the man's personality. Many people, even those who admired the music he made, could not endure his explosive personality which was always tightly-twisted like a wire. Anibal Troilo, a mentor of Piazzolla's on the bandoneon, said to him one night, "You're the devil incarnate. God save you."
When one finally sets down this 459-page biography of Piazzolla, one is left with the image of a man locked in a furious struggle to give form to his artistic vision. Whatever else he did, it is the music that triumphs. And, as the authors themselves write in the final paragraph, the music speaks for itself.