BOOK REVIEW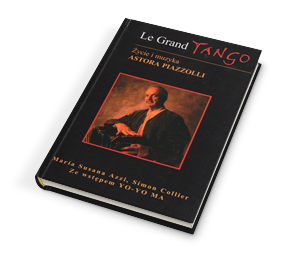 "Le Grand Tango: The Life and Music of Astor Piazzolla" by Maria Susana Azzi and Simon Collier is reviewed. Copyright BPI Communications Inc. Apr 22, 2000
Perhaps no musician of the late 20th century managed to both capture the hearts of the public and fire the imaginations of fellow artists like the
Argentine master of the nuevo tango, Astor Piazzolla. His innovative compositions and fiery performances wed concerns of the head, heart, and hips, modernizing the tango and taking the form from its roots in the brothels of Buenos Aires to some of the most prestigious concert halls of Europe and America.
While Piazzolla's music has been among the most recorded of any composer since his death in 1992, there has been no thorough biography in English
to give his ever-widening audience a firm sense of the man. Cultural anthropologist Maria Susana Azzi and Latin American studies scholar Simon Collier have stepped into the breach, presenting an engaging and highly valuable exegesis of the artist's life and work that has been endorsed by the Astor Piazzolla Foundation.
Born of Italian immigrant stock in 1921 in Mar Del Plata, Argentina, Piazzolla spent most of his early years on New York's Lower East Side. He returned with his family to Argentina in the late '30s and lived for many of his adult years in Europe, although the astonishingly well-researched "Le Grand Tango" illustrates how the street smarts the young Piazzolla acquired in New York would be a pillar of his adult personality Musically, he was drawn more to Bach and Bartok than the tango as a youth, although the Argentine tradition seeped into his soul through his contacts with such early greets as Carlos Gardel and Anibal Troilo.
Tellingly, Piazzolla said he had three teachers: Argentine modernist composer Alberta Ginastera, renowned Parisian classical pedagogue Nadia Boulanger, and Buenos Aires. Piazzolla paid his dues mastering the bandone on in the city's tango bars, and before the '60s had dawned, he penned his signature tune, the elegiac "Adios Nonino." His bold move to transform the tango from its status as a sentimental, ossified tradition into a more vibrant, contemporary art was controversial enough for conservative fanatics to threaten his life. But Piazzolla's 1968 avant– tango operita "Maria De Buenos Aires" with lyricist Horacio Ferrer was an artistic breakthrough, and the subsequent Piazzolla/Ferrer song "Balada Para Un Loco" was just the first smash hit.
Beyond a mischievous sense of humor, a hot Latin temper, a touch for billiards, and a love of obscure restaurants, a facet of Piazzolla's personality that comes across repeatedly in "Le Grand Tango" is his innate confidence-the free– minded creative drive that stoked his roles as musical revolutionary and inspirational bandleader. Azzi and Collier quote a friend who described Piazzolla as a man who spoke "without hairs on his tongue," using an old Spanish expression for utter forthrightness and self possession. The book's selection of photos-which show him with his wives and children, cutting up with bandmates, fishing for sharks, and playing his bandoneon with ardor-also helps impart something of the soulful Piazzolla aura remarked upon by many
From the mid-'60s to the late 'BDs, Piazzolla produced an ambitious, individual body of work. He composed for many Argentine and European films. Always admired by fellow musicians, Piazzolla collaborated with jazzers like Gerry Mulligan and Gary Burton, and he wrote the deep, dramatic sonata "Le Grand Tango" for cellist Mstislav Rostropovich.
He also composed such uniquely textured orchestral works as "Tangazo" and the Concerto for Bandoneon, Piano, Strings, and Percussion. His true calling, though, was performing around the world wth his series of virtuosic bands– a pioneering octet, a quintet, a nonet, a sextet, and the final great quintet– to Nuevo Tango. A host of live albums attests to the passion of Piazzolla in concert; several of the best appear on the Milan label, with thrilling takes of such classic Piazzolla tunes as "Adios Nonino," "Libertango" and "Tres Minutos Con La Realidad."
Azzi and Collier cover the prime of Piazzolla's rich, restless career (and love life) admirably, as they do his remarkable Indian summer. Before a
stroke blighted the last few of his 71 years, Piazzolla created some ofhis most memorable work. The sparks of his early-'80s collaboration with
dusky-voiced Italian chanteuse Milva are captured via the album "Live At The Bouffes Du Nord,"which includes a scintillating "Balada Para Un Loco."
By consensus of connoisseurs and the artist himself, 19$5's "Zero Hour" is Piazzolla's greatest studio recording. Part of his brilliant conceptual
triptych on Kip Han rahan's American Glave label (recently reissued by Nonesuch), the disc features ravishing versions of "Milonga Del Angel"
and "Tanguedia III."
It was Piazzolla's hit EP with the Kronos Quartet-the haunting "Five Tango Sensations," recorded just before he died-that helped spur the posthumous
boom for his music. Since the early '90s, Piazzolla's compositions have been interpreted by countless classical, jazz, and folk musicians, including
such stars as violinist Gidon Kremer, cellist Yo-yo Ma, and guitarist Al Di Meola. Their projects have not only introduced Piazzolla's music to
new audiences; they have sometimes yielded definitive statements-as with the Kremer-led "Maria De Buenos Aires."
With clarity and concision, Azzi and Collier document Piazzolla's journey in each of its phases and connect all the map's interpersonal dots, having
interviewed the artist's family, longtime band members, and such collaborators as David Harrington of Kronos. And while the forced, hastily assembled questionand-answer forward with Ma is regrettable, the book boasts a discography surveying Piazzolla's catch-as-catch-can recording career.
As cherishable as it is, "Le Grand Tango" should not be considered the ultimate Piazzolla biography, far it lacks the compelling prose style and
command of broader vistas that mark a bio like Maynard Solomon's of Mozart or Jack Chambers' of Miles Davis. "Le Grand Tango" relays much-needed facts regarding one of the last century's most universal artists, to the authors' enduring credit. But Piazzolla is a subject that also deserves other books.
As his wonderful records reflect, beyond the dance lies depth, behind the particulars lies poetry. BRADLEY BAMBARGER